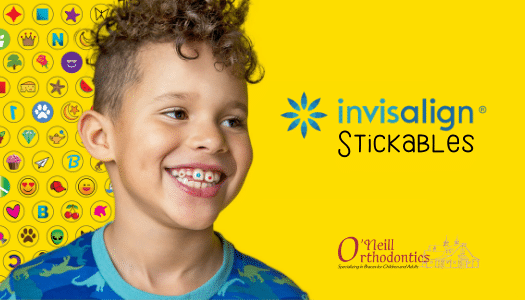 If you're a parent of a little one, you're going to want to know about Stickables. They're the newest release by Invisalign – the leading manufacturer of clear orthodontic aligners – and your kiddo is going to be interested. While many parents come to our practice with teens, we (and the American Association of Orthodontics) actually advocate having your child seen by age 7. 
Why? At this early age, a trained orthodontic eye can spot development and, in certain cases, begin treatment that will ease and shorten your child's overall need for orthodontic work. 
But, getting back to the point: What are Stickables? Stickables are fun stickers that are specifically designed to decorate your child's Invisalign aligners. They're non-toxic, totally safe, and super fun! Below are some of the reasons we at, O'Neill Orthodontics, love them too:
Our youngest patients can have fun customizing their aligners to show off their treatment and new smile

Stickables give kids a sense of control and autonomy in their treatment

They allow you, the parent, to embrace your kid's unique style – strengthening your relationship during the difficult tween years and increasing their self-confidence.

Less commitment – more style.

Remember the fun of picking your bracket colors for halloween only to wish they were something new come November? Stickables can swap out with each aligner – 2 weeks tops! 

And, unlike colored bands on brackets, your child can swap out their designs on their own, as often as they'd like!

Harder to lose – not quite invisible means these aligners are less likely to get tossed in a napkin at the lunch table and subsequently trashed.

Translation for grown-ups: less money spent on replacement aligners

Bottom line: Invisalign stickables makes wearing aligners fun!
At O'Neill Orthodontics, we are always working to create a fun environment where we build real relationships with our patients and their families. Your child's self confidence along with a healthy smile are of utmost importance – it's one of the reasons we love Stickables. 
If your child is approaching their 7th birthday (or if it's already passed) and their smile is begging for some stickables style – contact our practice. We offer complimentary consultations – virtually or in-person – and will build a customized treatment plan based on your child's needs. We have flexible financing and low down payments. We can't wait to meet you! 
At O'Neill Orthodontics we focus on your child's individual needs – there is no universal treatment plan for tiny mouths. We will work with your child and your family to create a treatment plan that addresses your child's best interests. 
Our unique office is located in New Freedom, PA – we're an easy drive for all our PA and Maryland patients and provide top-notch care in a sophisticated, tech savvy office. Dr. Nancy O'Neill is a Board Certified Orthodontist and a graduate of the University of Maryland. If you're looking for excellence, you're looking for O'Neill Orthodontics. We can't wait to meet you. 
Contact us today for a complimentary consultation! Click below to request an appointment: